Medicare Supplement Plan G: Benefits, Costs and Coverage
In this article...
Medicare Supplement (Medigap) Plan G covers more benefits than most other Medigap plans, including the Medicare Part A deductible and coinsurance. Learn more about how Plan G compares to other Medicare Supplement Insurance plans.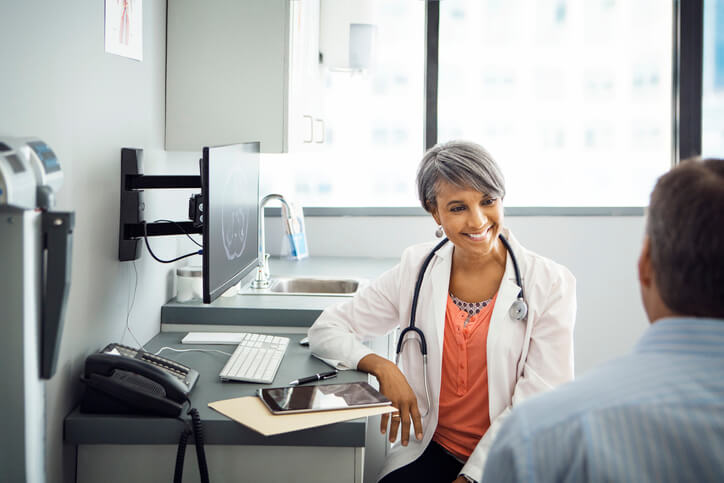 Medicare Supplement Plan G may soon become the most popular Medicare Supplement Insurance (also called Medigap) plan for new Medicare beneficiaries. Plan G offers more Medigap benefits than any other type of Medicare Supplement plan other than Plan F.
While Medicare Plan F is currently the most popular Medigap plan, it is no longer available for beneficiaries who become eligible for Medicare after January 1, 2020. Beneficiaries who had Plan F before 2020 or who became eligible for Medicare before 2020 may still be able to sign up for Plan F or keep their plan. 
This means that Plan G offers the most benefits out of any type of Medicare Supplement plan new Medicare beneficiaries can buy. In this guide, we detail the benefits and costs that Medicare Supplement Plan G can cover.
How Does Medicare Plan G Work?
Medicare Supplement Plan G covers eight of the nine benefits that are covered by the standardized Medicare Supplement Insurance plans offered in most states. These benefits include the following:
Medicare Part A Deductible
When you're admitted to a hospital for inpatient care, you will begin what's called a "benefit period". Your benefit period will continue until you have gone 60 consecutive days without receiving any inpatient care. 
Each benefit period, you're required to pay a deductible before your Medicare Part A benefits kick in. In 2021, the Medicare Part A deductible is $1,484 per benefit period. You could potentially have to pay the Part A deductible more than one time in a year, depending on how often you're admitted to the hospital as an inpatient.
Medicare Supplement Plan G covers the Part A deductible in full, no matter how many times you go through a benefit period.
Part A Hospital Coinsurance
If you're admitted to the hospital for inpatient care, you're not required to pay any Medicare coinsurance for the first 60 days of your hospital stay (though you do have to pay your Part A deductible as outlined above).
However, a coinsurance charge of $371 per day begins on day 61 of your hospital stay in 2021, and that Part A coinsurance charge doubles to $742 on day 91 of your stay, when you begin using your "lifetime reserve days." You have 60 Medicare lifetime reserve days to use over your lifetime, and you will be responsible for all costs once those are exhausted. 
Medigap Plan G fully covers your Part A coinsurance costs and also provides an additional 365 days of hospital benefits after your Medicare Part A coverage ends. 
Part A Hospice Coinsurance and Copayments
If you receive hospice care, Medicare Part A requires small copayments for drugs and other products used for pain relief and symptom control along with a 5% coinsurance requirement for respite care. 
Plan G provides 100% coverage of these hospice coinsurance and copay charges. 
Part B Coinsurance
After meeting your Medicare Part B deductible for the year ($203 per year in 2021), you are then typically responsible for a 20% coinsurance cost for remaining charges for your Part B services for the rest of the year.
Plan G covers these coinsurance charges in full. 
Skilled Nursing Facility Coinsurance
Skilled nursing facility care is covered under Medicare Part A and comes with daily coinsurance costs of $185.50 per day beginning on day 21 of your inpatient stay at a skilled nursing facility in 2021.
Medicare Supplement Plan G provides full coverage of these coinsurance requirements. 
Part B Excess Charges
Health care providers who accept Medicare assignment agree to charge no more than the Medicare-approved amount for their services or products.
However, providers who do not accept Medicare assignment are allowed to charge up to 15% more than the Medicare-approved amount for their services, which is known as an "excess charge."
Medigap Plan G covers Medicare excess charges in full. 
First Three Pints of Blood
Medicare provides coverage for blood needed during a transfusion, but only beginning with the fourth pint. Unless the hospital provides the first three pints of blood for free, the cost of the first three pints are the responsibility of the beneficiary.
Medicare Supplement Plan G provides full coverage of the first three pints of blood. 
Foreign Travel Emergency Care
Only under rare circumstances does Medicare provide any coverage for emergency care received outside of the U.S. or U.S. territories.
Plan G provides coverage for 80% of the costs of foreign emergency medical care, which is the maximum allowed under any Medigap plan. 
What Medicare Supplement Plan G Does Not Cover
The only Medicare Supplement benefit that Plan G does not cover is the Medicare Part B deductible. 
Only two plans, Plan C and Plan F, provide coverage of the Part B deductible. And, only beneficiaries who became eligible for Medicare before Jan. 1, 2020 are eligible to enroll in either of those plans.
What Is High-Deductible Plan G?
Plan G comes with a high-deductible option in some states. High-deductible Plan G requires beneficiaries to pay a $2,370 deductible in 2021 before the Plan G benefits kick in. The tradeoff for having the high deductible is a typically having a much lower monthly premium for the plan than for standard Plan G. 
Click on the image below to enlarge in a new window.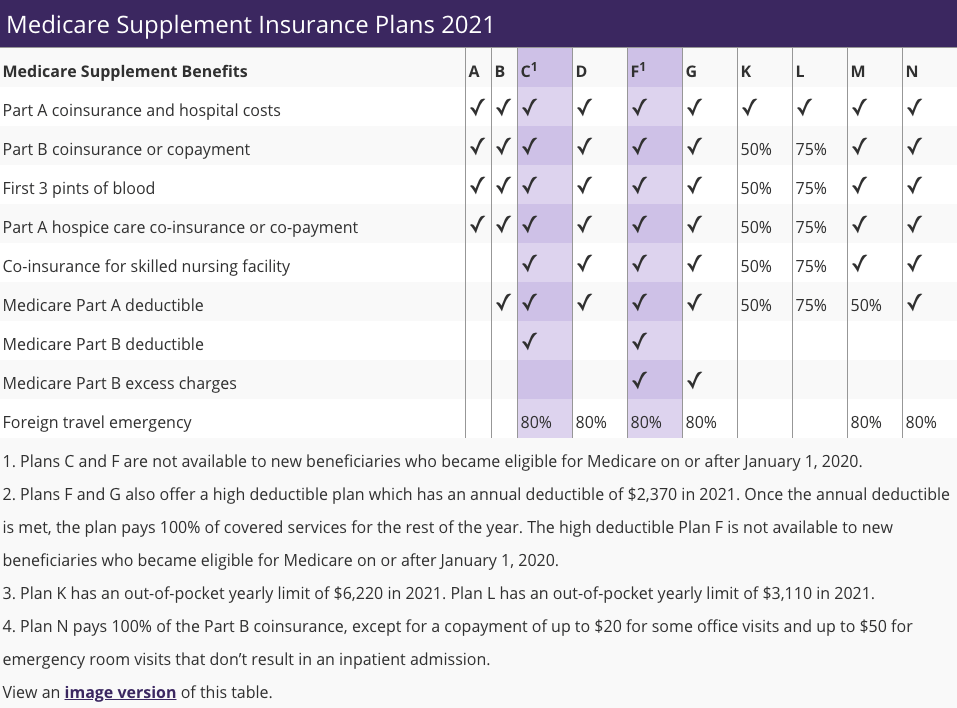 Plan G does not include an annual out-of-pocket limit. Only two Medigap plans, Plan K and Plan L, feature out-of-pocket spending maximums that cover all costs after a specified spending amount is reached.
Plan G may not be available in all areas. The selection of Medicare Supplement Insurance plans varies by location, so Plan G is not guaranteed to be available where you live. And you may only enroll in plans sold in your area.
The price of Plan G will also vary from one location or provider to another.
Medigap benefits are standardized everywhere except Massachusetts, Wisconsin and Minnesota. Plan G coverage will be the same no matter where it is sold aside from those three states, which standardize Medigap plans differently.